Star Wars Celebration 2017 Orlando
Last weekend I attended Star Wars Celebration 2017 Orlando. They used to give them numbers but I guess they've gone with a more long form name more recently. This was an almost, but not quite last minute decision. I got tickets early enough to be able to pre-order tickets at the slightly lower price but not early enough to have them shipped. It was a four day event but I was only able to attend Thursday and Friday. I only live a little over an hour away from the convention center where the event was being held so I chose to drive each day vs. getting a hotel room and getting a hotel room at that point probably would have been difficult anyway.
On Thursday, I did not have any plans to get there particularly early and arrived about an hour before opening. I've been to many events at the Orange County Convention Center over the past 15 or so years, including about that many MegaCon's and two previous Star Wars Celebrations. I've never had trouble getting into the building and on the worst days it has never taken me more than an hour or so to get tickets and into the show. This day was different. While it was not immediately obvious when I arrived because the end of the line was wrapped back around near the start, the line stretched for more than a mile, nearly two-thirds of the way around the convention center and back again. It took more than two hours to get into the building and almost another hour to pick up my pre-ordered tickets. My phone tells me I walked nine miles that day.
Once inside the building, it wasn't immediately obvious where to pick up tickets. I found that pretty quick but the line was disorganized and chaotic. In addition, there was this sign advertising available wristbands for panels. This came as somewhat of a surprise. Maybe some of you have had experience with this wrist band system for panels but I had never seen it before. They did not do this at the last Star Wars Celebration I attended in 2012. Apparently the idea is that you stand in a very long line to get a wristband in order to have the privilege of standing in another very long line to get in the panel. I suppose in theory this makes sense to somebody. You do all your standing in line at the beginning of the day, maybe even before the show opens and then you don't have to do it anymore. This sounds better than spending most of your day standing in line for one panel or another. In practice it is much more unpleasant.
The first panel was over by the time I got into the building and this was the big one for the day (the Star Wars 40th Anniversary Panel which had "surprise" guests like George Lucas). By some miracle, once I figured out where you go to get wrist bands (which again, was not immediately obvious) I was still able to get ones to see Ray Park and Billy Dee Williams. I think this was only because so many people didn't know you needed wrist bands or where to get them. Now since I have a wrist band, theoretically and can walk up and get into the panel any time i want right up to the start. However, if you get there 15 minutes before the start then expect to sit in a back corner somewhere. In reality, you still need to get there at least an hour early (and quite a bit earlier for more popular panels) if you want a chance of a decent seat.
In previous events I have attended, including Star Wars Celebration in 2012 and MegaCon almost every year, they did not use this wrist band system. You simply found where the panel was going to be and stood in line. For popular panels this meant getting there 1-2 hours ahead of time. If you like to go to a lot of panels this means you will be standing in line most of the day but I have always managed to get in (except for one panel at one particularly disorganized year at MegaCon a few years back). However, the net effect is that with this wrist band system you actually spend more time in line. In fact, if you wanted to get into the big panel on Friday (the Star Wars Episode VIII panel) then you needed to sleep overnight at the convention center on a cold, hard concrete floor to get in.
I was not willing or able to sleep at the convention center so instead I left home at 4AM and hoped for the best. I arrived at a little after 5AM and got in a much shorter line (they had also added two additional entrances). The doors opened a little late but at least I knew where to go and what to do.
The big decision I had to make was whether to line up for Mark Hamill's Tribute to Carry Fisher wrist band first or for The Last Jedi panel. Once I realized thousands had slept in line I chose the Mark Hamill panel and it was a wise choice. It took less than an hour to get the Mark Hamill wrist band and then I got into line for The Last Jedi. Even though there had never been a chance for me to get into the main room for that one, there were also overflow rooms where the event would be broadcast. There was some chance of getting one of those. For some reason that line took at least two hours but I did get a wrist band for one of the overflow rooms. By that time I think all of the wristbands for all the panels were gone. You were supposed to only be able to get two at a time anyway but they seemed to be enforcing this inconsistently.
(yes, this is a line for a wrist band...)
Besides the wait for wristbands, my wait time in line for each panel was about an hour, except for the Mark Hamill panel which was about two hours. I do not see any advantage to the wrist band system and I'm not sure I would go to another convention where they use such a system. I was disappointed with Star Wars Celebration in general. It seemed somewhat less organized than the previous ones I attended and there should have been many more panels. I realize that a Star Wars convention isn't going to have the variety of something like MegaCon but it is a big universe that has been around a long time and there are many smaller stars, authors, etc. that they could have had. And why is it so expensive, even when compared to something like MegaCon? Oh, and then there is the fact you have to stand in line to get into the "official" convention store...
Despite all this, I still had fun at least some of the time. I'm just not sure it was worth the cost to be tortured with those ridiculous lines. I enjoyed getting to see Ray Park and Billy Dee Williams and Mark Hamill's tribute to Carrie Fisher was sad and funny and all of the things you would expect. As a bonus, Warwick Davis did the hosting for the Billy Dee Williams and Ray Park panels. He had his own panel on Friday but I didn't make it to that one.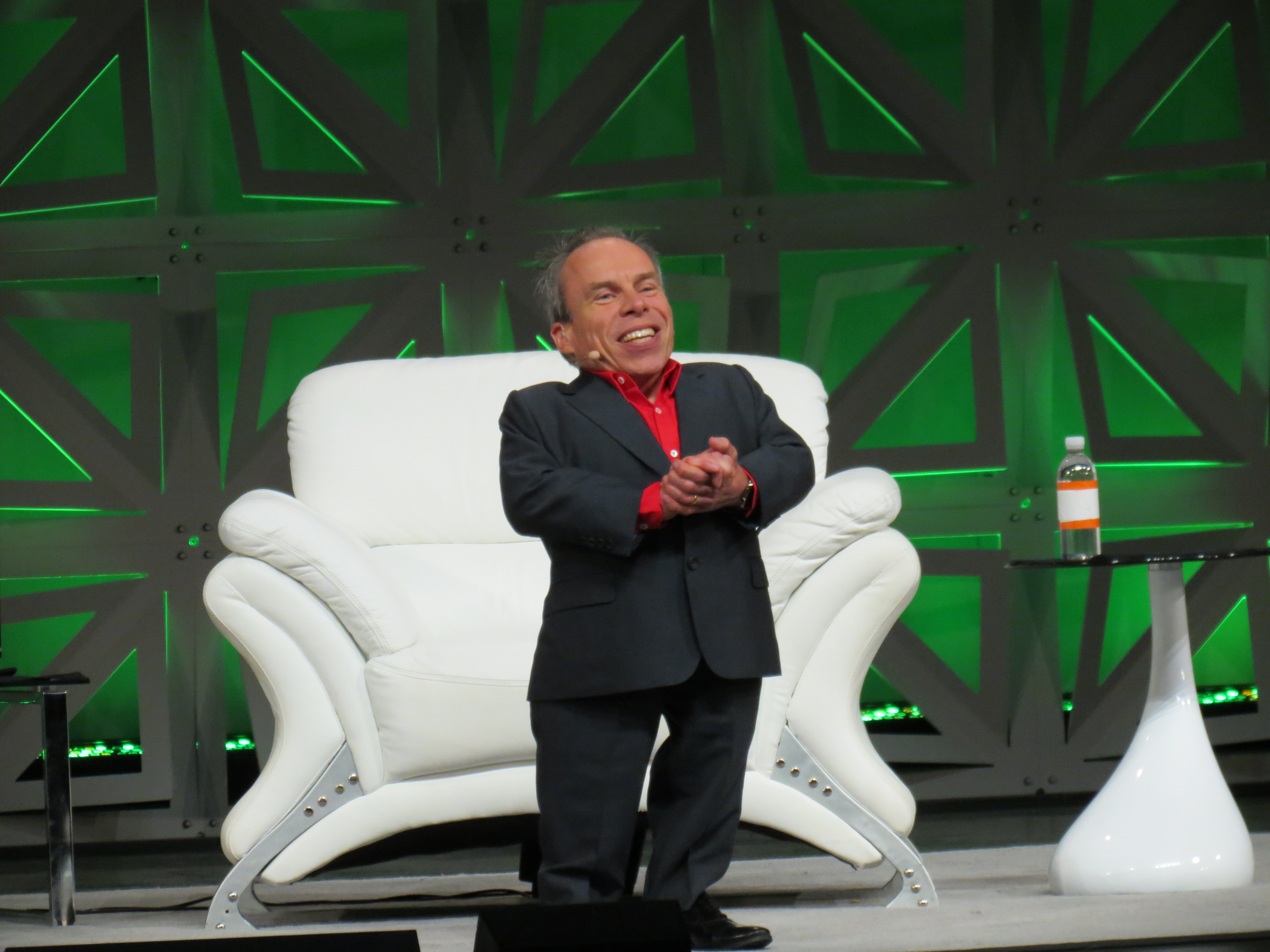 There were a couple of bonuses in The Last Jedi panel even though I wasn't in the main room. We got to see the new trailer and they gave everyone that attended that panel a poster that immediately started showing up on eBay for up to $500.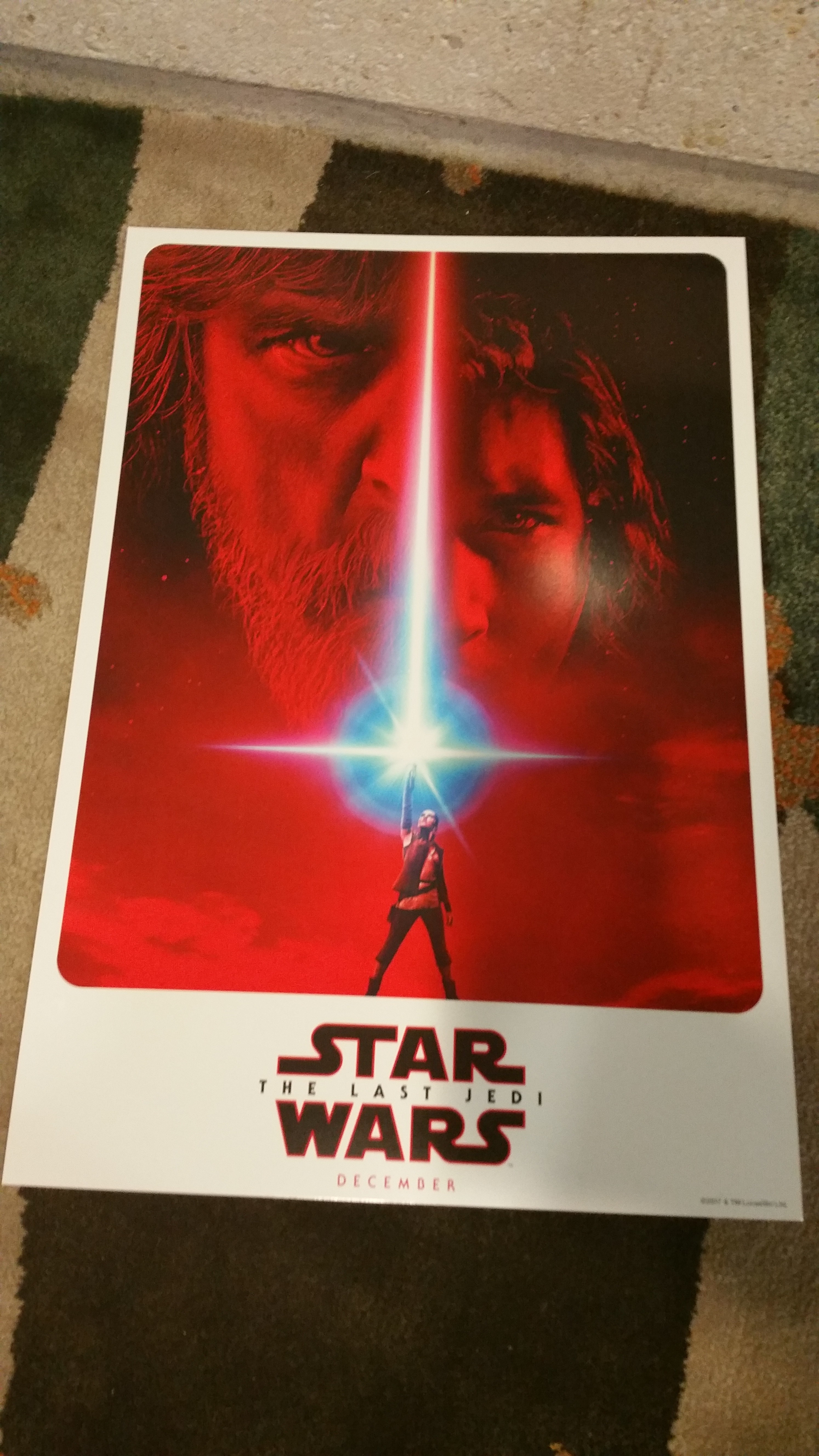 I also spent an hour or so each day roaming around the showroom but even that seemed a disappointment from 2012. My memory may be faulty but there seemed to be more stuff then. I had a hard time even finding decent lightsabers this year. Also, you didn't have to wait in a long line to get into the official store in 2012 or 2010 but you sure did this year (unless you managed to sprint there first thing in the morning and get their equivalent of a fast pass and hope that it lines up with your schedule). I never went in. Based on what merchandise was shown on the website, there was more interesting stuff to buy in 2010 and 2012 anyway. My souvenirs this time ended up being the pictures and video I took along with the free poster. There just wasn't anything there I wanted that bad.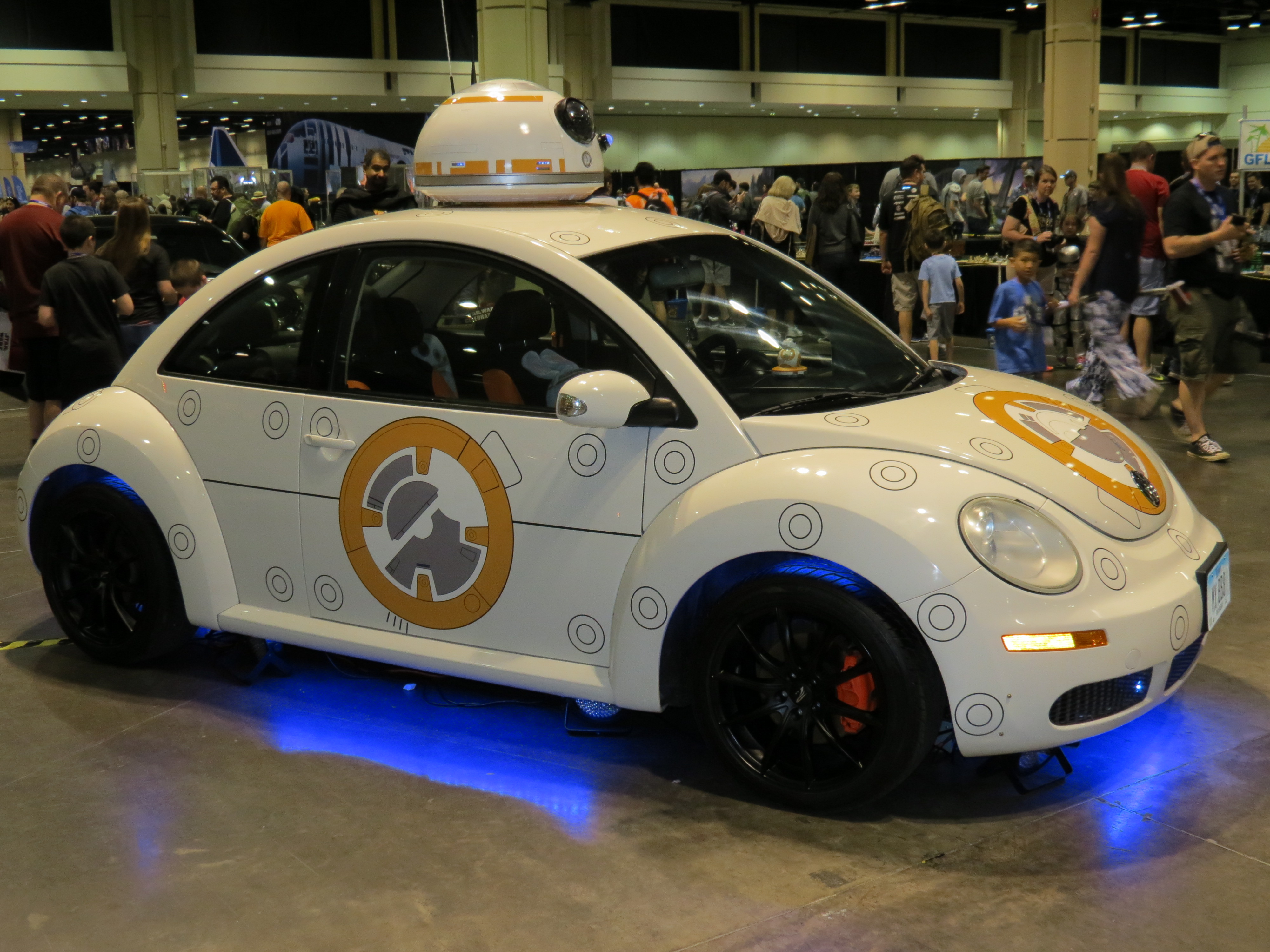 I really enjoyed this event in 2010 and 2012 and I wish I could say the same for this year. I thought 2010 and 2012 were the gold standard for organization and fun at a convention. What they did at the time was much better than what MegaCon was doing as far as managing crowds and lines. After this event, I would say MegaCon has been doing it much better (with the one exception mentioned earlier) though the jury is still out for this year. I'll let you know after it is over in a few weeks. It still had its good points but it just seems like it cost too much and made you work too hard to be entirely fun. If they have another Star Wars Celebration in Orlando there is a good chance I'll just stay at home and watch on youtube. It just seems like too much money and work for too little reward.
Read more:
http://www.megalextoria.com/wordpress/index.php/2017/05/01/star-wars-celebration-2017-orlando/